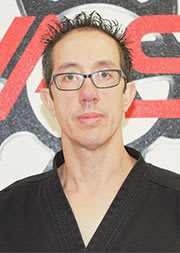 Douglas Walter
Mr. Douglas Walter began his Karate career at the age of 11, after watching the original "Karate Kid" back in 1985. He began competing locally as a White Belt and throughout the years, he has performed with national and international demonstration teams, along with competing in many local and international tournaments winning several national championships.
After earning his Black Belt in 1999 from Master John Sharkey (well known internationally as one of the top "quality" karate instructors), Mr. Walter continued teaching and competing. While competing and winning on the North American Sport Karate Association and National Blackbelt League Karate competition circuits, Mr. Walter was invited to be on Team USA in 2000 and 2002 to compete at the annual World Karate Association's international tournaments, placing in the top 5 at both tournaments among world competitors in the forms, weapons, and semi-contact sparring events.
After opening Novastar Martial Arts, Mr. Walter now passes his well-rounded knowledge and expertise on to his students. Several students have competed at local tournaments and have done extremely well in multiple events.
With the added influence of several friends that work in the entertainment industry in Hollywood, Mr. Walter and Novastar are already developing Superstar talent at Novastar, which brings great joy to Mr. Walter, knowing that he's helping so many families become the best versions of themselves.